Date twins are two people who were born on the same day and year but not necessarily at the same time. Astrologers are more fascinated by time twins. Time twins are two individuals who were born on the same day and at the same time. Time twins and day twins are different from conventional twins in that they are not related

The uncanny connections of Lincoln & Darwin
Abraham Lincoln and Charles Darwin were both born, February 12, 1809. There are differences. On the on hand, Lincoln was a lawyer and politician who became US President until his assassination in 1865. He led and won the Civil War which led to the abolition of slavery. On the other, Darwin, the biologist, geologist and author, who wrote On the Origin of Species (1859), which set out his theory of evolution.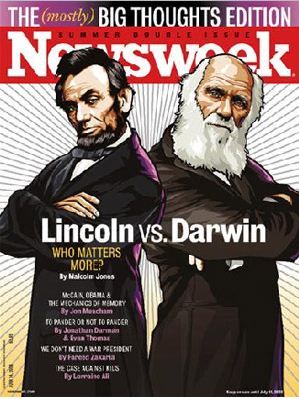 However, there are some compelling similarities. Some may be chance coincidences, but some appear to relate to the similarities in thier birth charts:
Both lost their mother at a young age. Susannah Wedgwood Darwin lost her battle with an unknown disease on 15 July 1817. Nancy Hanks Lincoln, died of milk sickness on 5 October 1818, at the age of 34.
Both considered themselves as autodidacts (self-taught) (Lander 2010)
Both lost young children. Lincoln's son, Edward died just before his fourth birthday. Anne Elizabeth Darwin died aged 10. Her devastated parents kept a box full of keepsakes which went undiscovered until 2000). (Mancini 2014)
Both shared an interest in science and a skeptical approach to religion. (Allen 2011)
Both strongly opposed slavery and influenced widespread beliefs on the topic. Lincoln once "If slavery is not wrong, nothing is wrong". Slavery was eradicated in the US with Lincoln's 13th Amendment. Darwin was also an abolitionist. While aboard the HMS Beagle (a voyage that inspired his theory of natural selection), Darwin frequently encountered "those atrocious acts which can only take place in a slave country."
Darwin closely followed the events of the American Civil War and wanted Lincoln and the Union to prevail. Darwin wrote:

I have not seen or heard of a soul who is not with the North. Some few, & I am one, even wish to God, though at the loss of millions of lives, that the North would proclaim a crusade against Slavery ... Great God how I should like to see that greatest curse on Earth Slavery abolished." letter from Darwin to Asa Gray 5 June 1861 .

Both men had strong antagonists. Lincoln's local political rival was Stephen A Douglas and Darwin, Louis Agassiz, an advocate of polygenism.
Both men loved Shakespeare. In an eerie coincidence, Lincoln quoted the following line from Macbeth mere days before his assassination: "After life's fitful fever, he sleeps well." (Mancini 2014)
Neither rose to national prominence until their late forties. Lincoln gained national recognition through his debates with Douglas in 1858. Darwin became famous with the publication of On the Origin of Species.
Both loved music, but neither could sing. Lincoln adored opera, while Darwin enjoyed listening to church choirs, classical concerts, and his wife's piano-playing. Yet, Lincoln refused to sing around others and Darwin was tone-deaf.
There was one critical difference, Lincoln loved cats, while Darwin preferred dogs. (Mancini 2014)
George W Bush and Rambo - Date Twins.

Sylvester Stallone [aka Rocky and Rambo] was born on the same day as George W. Bush. .
Tony Blair and Graeme Souness
Astrologer, Paul Wright writes in the Astrological Journal [#5 Sept/Oct 2006] "...Tony Blair and football manager Graeme Souness, who were born about 11 hours apart in Edinburgh on 6 May 1953. Though Souness achieved great success as captain of the all-conquering Liverpool F.C. football team of the early 1980s, Wright could not see other striking parallels between their lives. However, I did recall that Souness had major heart surgery on 7 April 1992 and led his players out as manager for the FA Cup within days. On 19 October 2003 Blair had received treatment with cardioversion for an irregular heartbeat and was diagnosed with supraventricular tachycardia. Blair recovered well by cardioversion and he returned home that night and returned to a full schedule on 21 October.
My Time Twin is also an astrologer
Now I have met a few time and date twins. When I lived in London, I used to see a lot of my closest time twin, David Fitzwilliam. He is also an astrologer, though David also practices as a psychic. There were many other differences as he has Capricorn rising and my ascendant is Sagittarius. My son also had a time twin in his class with similar ideas, academic performance and parental similarities. Both managed to chip their front tooth in accidents within days of each other
New Yorker Time Twins
At a new age expo in New York City, I met time twins who had become firm friends. They were born within a few minutes in different hospitals across midtown Manhattan. When they met, they discovered they had been living parallel lives. They talked in a very similar manner - even finishing off each other's sentences!

Here's another set of attractive and unrelated time twins from Brentwood in Essex, England who also became great friends :-



Celebrities born on the same day
In the colour supplement that comes as part of the British Sunday Times newspaper, there is a short piece entitled "Born on the same day". Every week, it prints comments on two celebrities born on the same day and year. It has absolutely no connection with astrology. When I first started to read it, the emphasis was on how different the Date Twins were. However, as time has gone on the similarities have become far more remarkable than the differences.
Texan First Lady and sex-and-drugs artist both born Nov 4, 1946

Early on we had the Texan First Lady, Laura Bush and Robert Mapplethorpe, the "sex-and-drugs artist".
Well, you couldn't get two people who appear to be less alike ... Mapplethorpe's life included a heavy consumption of drugs and many homosexual and heterosexual relationships. In 1989, he was the subject of an obscenity trial after his death from Aids in 1989 ... a far cry from Laura Bush.
Yet, Robert M. saw himself as an artist rather than a photographer and promoted artists such as one-time girlfriend Patti Smith through his photography. Laura has done much to promote the talented artists of Texas. For Laura this urge in part comes from her Venus/Mars conjunction in 7th house. Their appreciation of the arts also comes from their moons in Pisces and acting as a patron or leading light of the arts from Saturn/Pluto in Leo. There were other similarities - for example both learnt Spanish [Mercury conjunct Venus in Sagittarius trine Saturn in Leo].
Other day twins include:-
DATE TWINS as published in The Sunday Times
Record maker and record breaker
Kate Bush & Daley Thompson.
July 30, 1958
Iron Lady & icon of stand-up comedy
Margaret Thatcher & Lenny Bruce
October 13, 1925
Horsey writer and saucy snapper
Dick Francis & Helmut Newton
October 31, 1920
Texan First Lady & sex-and-drugs artist
Laura Bush & Robert Mapplethorpe
November 4, 1946
Cheeky presenter and freaky transvestite
Jonathan Ross & RuPaul
November 17, 1960
British hero and Canadian Treasure
Winston Churchill & L M Montgomery
November 30, 1874
Animation giant and atomic genius
Walt Disney & Wener Heisenburg
December 5, 1901
Two sultans of sitcom
Robert Lindsay & Paula Wilcox
December 13, 1949
Two great English wordsmiths
Ralph McTell & Craig Raine
December 3, 1944
Lander, James (2010) Lincoln and Darwin: Shared Visions of Race, Science, and Religion. Carbondale: Southern Illinois University Press.
Allen, Tom (2011). Review of Lincoln and Darwin: Shared Visions of Race, Science, and Religion by James Lander. The Journal of the Civil War Era. 1 (3): pp.425–427.
Mancini, Mark (2014) 6 Things Lincoln and Darwin Had In Common
Darwin, Charles (1861) Letter to Asa Gray from Down House, Kent. Darwin Correspondence Project, University of Cambridge DCP LETT 3176.xml