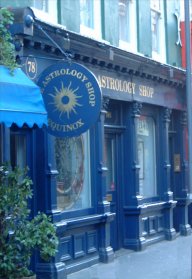 The shop is currently open from 11am to 7pm every day.
The London Astrology Shop in Covent Garden stocks over 1,500 astrological titles. The range is possibly the largest selection of books in the English language. The manager, Barry Street, is an astrologer with 20 years experience and an unparalelled knowledge of astrological publications. Books can be ordered on line, by email, by post or by visiting the shop in Neal Street.

The Equinox Personal Horoscopes, Astro*Carto*Graphy Maps and Analyses, Astro*Intelligence analyses by Liz Greene, chart wheels, lunar calendars, astrological videos are available from the shop or from our head office on a web/mail order basis. The Shop also offers astrological software and a fun range of celestial products.

The Astrology Shop was founded on November 2nd 1989, by Robert Currey.