Obituary for sun-sign astrologer and columnist Sydney Omarr (best known in the USA):
From the LA Times January 3rd, 2003
Astrologer to Stars Wrote World's Best-Read Horoscopes
By Louis Sahagun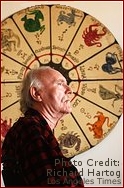 Sydney Omarr, the astrologer and counselor to the rich and famous whose horoscopes are the most widely read in the world, died Thursday. He was 76.
Blinded and paralyzed from the neck down by multiple sclerosis, Omarr died at St. John's Health Center in Santa Monica of complications from a heart attack. His ex-wife, assistants and several close friends were by his side.
A lifelong promoter of the ancient art of divining the future from the juxtaposition of the planets and stars, Omarr was diagnosed as having multiple sclerosis in 1971 but continued working until suffering a massive heart attack on Dec. 23.
He reached millions through his 13 books and his column, which is owned by the Tribune Co. and carried by the Los Angeles Times. The column appears in more than 200 daily newspapers.
Arrangements are being made for his assistants to continue producing the column under Omarr's name.
Omarr's books -- 1 for each of the 12 signs of the zodiac plus 1 for the entire year -- have sold 50 million copies worldwide.
Threw Lavish Dinners
Although he took his job as horoscope master to the masses seriously, Omarr also insisted on having fun. He especially enjoyed splurging on lavish dinner gatherings, for friends and paramours, and gambling. In a recent interview with The Times, Omarr mused, "I win more than I lose."
The interview was his first after more than a decade of keeping a low profile as MS devastated him physically. He believed that this year, with Jupiter in the fifth house, he was poised for success through publicity.
Adoring Female and Other Fans
But, then, "Sydney always had the boyish charm of the man of the hour," said Omarr's assistant and friend, Paul Smalls. "He was always the Leo surrounded by adoring women and fans."
"About those adoring women," Omarr liked to say, "it's the astrology they're in love with, not me."
Benson Srere, who worked with Omarr at the United Press news service in the early 1950s, said Omarr was valued by his readers "not because they believe every word he wrote, but because it always contained threads of hope and encouragement."
His fans ranged from working stiffs to politicians and princes, movie stars and scholars. The walls of his Westside apartment are covered with framed photographs of him with celebrities such as actresses Angie Dickinson and Jayne Mansfield, and authors Aldous Huxley and Henry Miller.
Omarr was born Sidney Kimmelman at 10:27 a.m. on Aug. 5, 1926, in Philadelphia, with the sun, Mercury and Neptune all in Leo, and Libra on the ascendant.
See also Celebrity astrologer Sydney Omarr dies at 76 (January 4 2003) The Post and Courier (Associated Press)

Famed astrologer dead at 76 Author: Brenda Warner Rotzoll (January 4, 2003) Chicago Sun-Times p.6 Word Count: 838