London's Mind, Body, Spirit Festival
MBS confirmed as world's premier new age show
Another great year though the show faces the Saturn Return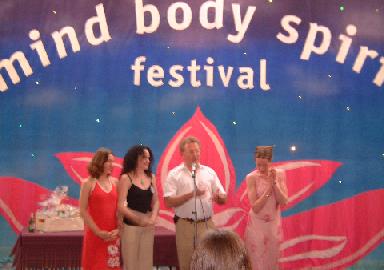 From left to right: Mia, Lani, John Holder [Proprietor] and Sharon Adams [Managing Director]

20,000 people can't all be wrong!
When all round the world, New Age Festivals, Psychic Fayres, Whole Life Expos have self liquidated or are in sharp decline, the London Festival of Mind, Body and Spirit has successfully ridden the tidal wave of change. Nevertheless, it is clear that as the Festival reaches it's 28th year - the start of the show's Saturn return (as Sharon the organiser pointed out to me) that it is time to consolidate. Next year's show is planned to be a slightly shorter but more focussed 6 day show. [Later comment: The shorter show proved to be a great success attracting as many visitors as the 10 day show]
MBS: A victim of the original phenomenal success.
Through the Mind, Body Spirit Festivals, the founder Graham Wilson helped to make the tools and techniques for self-discovery and enlightenment available to a wider audience. The Festival was a key participant in enabling this vision to extend throughout the western world.
As a result of the exponential growth of interest, complimentary medicine, new age products and metaphysical books are now obtainable from your local shops or on the web. Because of this some people feel they no longer have to make the annual pilgrimage to London. However, they will miss the many readers, therapists, practitioners, gurus and new products being launched which are simply not available elsewhere. And, in a world of retail therapy and cyber simulation, there is nothing quite like the MBS experience.
Everything under one [Art Deco] roof!
The reason the London MBS Festival has retained it's high attendance is because it is the one venue where you will get to see all the top names and organisations in the field under one roof. If you are not there, you are not truly in the forefront of the movement to a new paradigm.
Should the public get what the public wants or what the public needs?
Since the time of Graham Wilson, the organisers have strictly vetted all applicants. When one rejected applicant complained that the public liked his product, Graham retorted: "If I took exhibitors on the basis of public popularity, I might as well have a hamburger concession in the centre of the hall!" Sometimes good applicants have had to be wait listed because it would result in too much duplication. The organisers under the direction of Sharon Adams, still ensure that there is a even but varied spread throughout the field.
Focus on quality of exhibitors rather than quantity.
The Festival experience remains good value. Because of the discounts on offer, you can recover the price of your entry ticket on your first purchase. The show also includes free performances and demonstrations, besides over 100 exhibitors. What is unique about the show is that on most stands you can actually get to speak to the key individuals or the authors. There is also a full programme of lectures and workshops.
Robert Currey June 2003